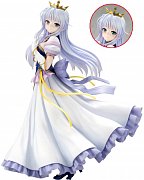 Yoake Mae Yori Ruriiro Na PVC Statue 1/7 Feena Fam Earthlight 15th Anniversary Bonus Edition 25 cm
EAN:

4934054029747

Serial number:

KTOPP945
Stock Availability
Temporarily unavailable
$149.81
To commemorate the 15th anniversary of \"Yoake Mae Yori Ruriiro Na\", an all-new scale figure is now here!

From the renowned game \"Yoake Mae Yori Ruriiro Na\" which is still talked about as a masterpiece among fans to this day, the heroine, Feena Fam Earthlight, will be released as a figure to celebrate the 15th anniversary of the game!

This figure has been carefully examined by Bekkankou, the original character designer and illustrator of the game. As such, the figure perfectly depicts Feena\'s graceful and regal features.

With the way Feena\'s hair can be seen swaying in the wind and the skirt sculpted in great detail, this figure is full of charm that can be enjoyed from any angle.

With modern technology, Feena will come to life like never before and will be sure to live up to its \"-15th anniversary-\" name!