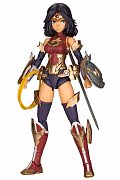 DC Comics Cross Frame Girl Plastic Model Kit Wonder Woman Fumikane Shimada Ver. 16 cm
EAN:

4934054014873

Serial number:

KTOCG004
Stock Availability
$104.45
One of The Big Three of DC COMICS, Wonder Woman returns as a plastic model kit based on a new original illustration by the beloved Fumikane Shimada!

Three face parts are included (normal front-facing, normal left-facing, and yelling).
Sword, shield, the Lasso of Truth, various armor parts, shield effect parts, and a simple base are included in this kit.

Each joint has a wide range of flexibility to allow for diverse posing such as crossing the arms like in the comics.

This product is a plastic model kit that requires assembly.

What is \"Cross Frame Girl\"?

Cross Frame Girl is a collaboration series that combines Kotobukiya\'s original content \"Frame Arms Girl\" and its advanced technology with other well-known media content.
The kits come with multi-colored parts and face parts pre-printed with tampography, making them easy to assemble with no paint required. The kits are equipped with 3mm joints and PVC hand parts, making them compatible with the weapons and armor of a majority of M.S.G Weapon Unit series, Frame Arms Girl, and Frame Arms series. Cross Frame Girl models is also compatible with currently sold Frame Arms Girl models so users can interchange head, arm, and leg parts for further customization options.