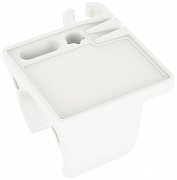 Kotobukiya M.S.G. Model Kit Accessory Set Finger Palette 3 cm
EAN:

4934054028542

Serial number:

KTOMT011
Stock Availability
Temporarily unavailable
$3.17
The Path to Improve Painting!

A support tool that users can use just by attaching on their finger that contains all the necessary functions for painting

This is a tool that was designed to make painting easier for veteran painters and newcomers to quickly learn the ropes of painting and holding brushes.

Model Specifications:

- Size of Main Surface: 27mm Width, 32mm Length
- Ring Size: 15.6mm at the thinnest point and 17.3mm at the thickest point
*The measurements given are from the original product design. The product itself is can fit many finger sizes due to the flexible silicone material used.

- Color/Solvent Pocket

The product\'s \"density condition\" prevents the surface area of the palette from shrinking when exposed to air. The surface tension of the product also prevents contents from spilling easily even when the palette is worn and curved to the angles of the finger.

- Slit for Brush Tips

A slit that helps to shape the tips of brushes into sharp points crucial for delicate painting. Users can adjust their brush shape on the product, and make adjustments accordingly on the painting test space.

- Holder for Absorbent Material

A holder for absorbent material such as tissue paper so users can make small adjustments on the water retention of brushes which affects the spread of paint.

- Silicone Material

Made of silicone, this product fits gently on the finger of the wearer. The white of the material makes it easy to check the paint\'s color on the surface. This product can be easily cleaned with tape after use.