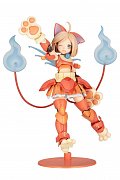 Soukou Musume Plastic Model Kit BCS:JI Banyan Tsugumi Kozakura 15 cm
EAN:

4934054130283

Serial number:

KTOKP464
Stock Availability
Temporarily unavailable
$105.50
Soukou Musume is a new game by DMM and Level-5 based on the motif of Level-5\'s Danball Senki, and now characters from the game are joining Kotobukiya\'s plastic model kit lineup!
The third character to join the lineup is LBCS:JI?BANYAN Tsugumi Kozakura!

Model Specifications:
·This multi-colored plastic kit includes pre-painted parts, allowing users to achieve a finished look simply by assembling the kit.
·The kit includes four face parts: \"default,\" \"winking,\" \"shouting,\" and \"puzzled.\"
·The face parts are all pre-printed, with no decals or additional painting required.
·The kit includes two sets of cat ears with different angles to match different types of poses.
·The hand parts/weapons are connected with a joint that is universal to the series, and are articulated to achieve an expressive range of poses.
·The clear \"hitodama\" parts can be connected with the included wire and displayed in different configurations.
·The kit includes decals for the eyes and other markings.
·The skirt is moveable, giving the legs a wider range of movement.
·The attachment part of the included base can be moved up and down.

Please note: For this item, demand is expected to be higher than the available quantity, which may result in allocations or cancellations of quantities ordered.