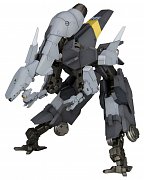 Frame Arms Plastic Model Kit 1/100 NSG-25y STRAUSS 15 cm
EAN:

190526039155

Serial number:

KTOFA136
Stock Availability
Temporarily unavailable
$63.30
Immerse yourself in the world of Frame Arms!

NSG-25? STRAUSS is the latest design by modeller NAOKI.
This model features a different frame from other Frame Arms up until now and includes newly designed armor parts. The unique silhouette of the model\'s reverse leg joints showcases its strength and speed.
By attaching M.S.Gs to the model using the many included attachments, users can create armor variations that are indispensable for mass produced mechas.

Furthermore, by combining with the latest NSG-12a KOBOLD:RE2, users can create the heroic humanoid-type Frame Arms, NSG-04d WEISHEIT! This model thus features the new combination mechanism within the frame structure.

Enjoy the endless potential of the Frame Arms series.

Changes Made in Model \":RE2\":

- The hand parts use swing joints. \"FA Hand 2\" are included that includes gun-holding hand parts.
- The model uses Frame Architect Renewal Ver. for the base frame. The Frame Architect is made of PS plastic and not pre-assembled in this model kit.
- The hips of Frame Architect uses the standard joints parts of SA-16Ex STYLET MULTI WEAPON EXPANSION TEST TYPE for more secure support.

*The Frame Architect parts are not pre-assembled and only includes runners necessary to assemble this product.