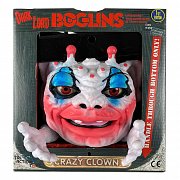 Boglins Hand Puppet Dark Lord Crazy Clown (Glow In The Dark)
EAN:

850027360157

Serial number:

TRIAT10017
Stock Availability
Temporarily unavailable
$26.38
Boglins® are back in their original size and cages, but they have evolved! Boglins® were extremely popular in the U.S. between 1987 - 1989, after which these creepy and cute puppets traveled around Europe, Canada, Japan and Australia for another 7 years but have been hiding ever since. Now the Boglins® are back with newly evolved styles and ready to burst out of their cages!

For many years, Crazy Clown was considered to be just a myth. Bogobones and Blobkin were said to whisper stories about him in children\'s ears at night as they slept, giving them horrible nightmares. Many say Crazy Clown pulls horrible practical jokes on other Boglins and sometimes humans too. He has been known to put whipped cream in peoples hands at night so they wake up with a faceful in the morning. The rumors about him spread like wildfire and everyone cowers at the sound of his name. So don\'t ever whisper his name three times in the dark at night in the Boglands less he sneak up on you and give you the Hee Bee Gee Bees! Oh, please, whatever you do, don\'t play the Bee Gees!

This officially licensed Boglins hand puppet is approx. 17 cm tall and made from TPR.