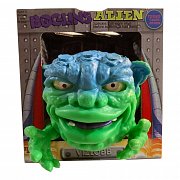 Boglins Hand Puppet Vizlobb
EAN:

850027360249

Serial number:

TRIAT10020
Stock Availability
Temporarily unavailable
$28.49
Boglins® are back in their original size and cages, but they have evolved! Boglins® were extremely popular in the U.S. between 1987 - 1989, after which these creepy and cute puppets traveled around Europe, Canada, Japan and Australia for another 7 years but have been hiding ever since. Now the Boglins® are back with newly evolved styles and ready to burst out of their cages!

Millions of years ago, Boglins crawled out of the bogs on Bogzania, their home planet.
It is believed that years of built up methane gas in the atmosphere on Bogzania made the planet increasingly uninhabitable.
Because of this, three brave Boglins ventured out into the universe: Drizoul, Vizlobb, and Dwizork.
Propelled by the same methane gas they helped \'release\' into the atmosphere of Bogzania, the three Boglins blasted through the universe into uncharted territory.
They left a trail of noxious gas allowing other Boglins to follow them to whichever new planet they travelled to. And so they did


This officially licensed Boglins hand puppet is approx. 17 cm tall and made from TPR.