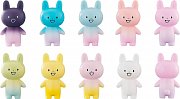 Zettai ni Kowarenai Tomodachi wo Kudasai Mini Figures 9-Pack Rabbit-Type UMA Ogakuzu 10 cm
EAN:

4580416943536

Serial number:

GSC94352
Stock Availability
$62.25
\"I\'m just a cute rabbit, so I definitely won\'t think of doing anything evil.\"

From Tomoko Fujinoki\'s four panel manga series \"Zettai ni Kowarenai Tomodachi wo Kudasai.\" comes a series of soft vinyl figures of the sawdust-loving rabbit-type UMA (Unidentified Mysterious Animal) Ogakuzu! The lineup includes 9 varieties!

Each soft vinyl mini figure stands 10 cm tall.