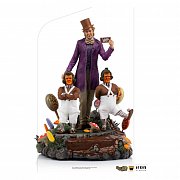 Willy Wonka & the Chocolate Factory (1971) Deluxe Art Scale Statue 1/10 Willy Wonka 25 cm
EAN:

602883134911

Serial number:

IS13491
Stock Availability
Temporarily unavailable
$267.97
Willy Wonka and Oompa-Loompas in an unprecedented statue by Iron Studios to celebrate their 50th birthday!

In a world of pure imagination. Take a look and you will see. Into your imagination ... 50 years ago, the director Mel Stuart brought to life the sweet story imagined by the Welsh writer Roald Dahl, in the children\'s book Charlie and the Chocolate Factory, written in 1964, adapted in theaters in the film Willy Wonka & the Chocolate Factory, in 1971. With the iconic actor Gene Wilder in the role of the enigmatic and eccentric Willy Wonka, for which he was nominated for a Golden Globe for Best Actor in a Comedy or Musical, and the film, nominated for an Oscar for Best Original Soundtrack, became a pop culture classic that still captivates new fans!

Celebrating the 50th anniversary of this unforgettable production, Iron Studios brings, from into their imagination, the \"Willy Wonka Statue - Willy Wonka and the Chocolate Factory - Art Scale 1/10 - Iron Studios\", a fantastic and unprecedented collectible, created especially for fans and collectors around the world. Willy Wonka, owner of a mysterious chocolate factory, introduces himself holding one of his famous Wonka chocolate bars, wearing his peculiar tuxedo and top hat, with impressive fidelity to Wilder\'s features, on a diorama base of a fictitious edible garden, all made of sweets and treats, one of the worlds inside the factory, beside a river of chocolate and two smiling Oompa-Loompas, little men from a distant land, who work at the factory.

Locked for years to protect his secrets from competitors, candy maker Wonka announces that he has hidden five \"Golden Tickets\" in chocolate bars distributed around the world, and those who find them will win a tour of the factory and a free, permanent supply of their chocolates. Among the five children who find the Golden Ticket is Charlie Bucket, a poor newspaper delivery boy who lives with his widowed mother and his bedridden grandparents. Together with his grandfather Joe, and the other children and their parents, Charlie embarks on an adventure in a fantasy world inside the factory, with Wonka as his host and guide, who in the end reveals the real reason for such a contest. In 2014, this classic was selected for preservation in the National Film Registry of the Library of Congress in the USA, because it is \"culturally, historically and aesthetically significant.

To honor this masterpiece, Iron Studios will hide some \"Golden Tickets\" inside the boxes of this piece, distributed worldwide and will prepare a special surprise for the lucky ones who find these tickets.

The Polystone statue measures approx. 25 x 18 x 17 cm and comes with matching diorama base.