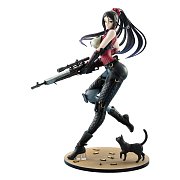 Valkyria Chronicles 4 PVC Statue 1/8 Kai Schulen 26 cm
EAN:

4573347242809

Serial number:

BLF24280
Stock Availability
Temporarily unavailable
$334.44
Genius sniper Kai Schlen is here!

From Sega\'s \"Valkyria Chronicles 4\" comes a scale figure of \"Kai Schulen\", a genius sniper with the nickname \"One Shot Killer\"! The original character design, Raita Honjo\'s illustration, has been used as a motif to create a three-dimensional pose with a lively feeling. We are particular about the texture of the combat uniform and the modeling and painting of the rifle. Place the attached cat wherever you like.
Please enjoy every corner of the powerful body line that Kai Schulen, who is usually quiet and unfriendly, fascinates.

It stands approx. 26 cm tall and comes with base in a window box packaging.