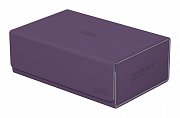 Ultimate Guard Smarthive 400+ XenoSkin™ Purple
EAN:

4056133017152

Serial number:

UGD011122
Stock Availability
Temporarily unavailable
$65.41
The Smarthive 400+ is an intelligently designed deck case, that serves all the needs of modern card gaming. Not only does it hold multiple card decks and accessories (there\'s even space for your Digital Lifepad 5\"), but it\'s removable cover also serves as a play-mat, using the extra smooth microfiber inner material of the box as playing surface. The newly developed, extra strong magnetic closure ZnapClaw keeps the case safely closed at all times.

What this amazing box can hold:

4 × Sidewinder™ 80+
or 4 × Sidewinder™ 100+
or 4 × Boulder™ 100+
or 4 × 2 × Sidewinder™ 100+ and 2 × Boulder™ 100+

Product features:

- Designed for 400 double-sleeved or 480 single-sleeved standard sized cards in Ultimate Guard Sleeves*
- Removable cover can be used as Play-Mat
- Compartment for Digital LifePad 5\"
- Ideal for storing a variety of Ultimate Guard products
- Convenient for carrying multiple decks
- Resistant XenoSkin™ material
- Microfiber inner lining
- ZnapClaw: Strong magnetic closure with optimized locking mechanism

Dimensions: 281 x 190 x 102 mm
Cover size: 625 x 281 mm

* Optimized for Ultimate Guard Sleeves. Sleeves from other brands may affect capacity/compatibility.