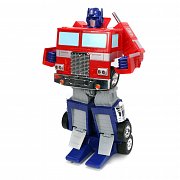 Transformers Transforming R/C Robot Optimus Prime (G1 Version) heo EU FTM Exclusive 30 cm
EAN:

801310335215

Serial number:

JADA33521
Stock Availability
$108.67
Autobots, roll out!

Living among humans, hiding in plain sight and watching over us are the heroes known as Transformers. You\'ll have a hero living among you, complete with lights and sound with this Transformers Optimus Prime Converting RC. It converts from a truck to robot and back with the push of a button, Optimus will be waiting and protecting at all times. Expertly designed for smooth driving and transforming performance. When standing Optimus Prime walks with separated leg-like movement. His head pops out and arms come out. This amazingly crafted remote control vehicle/robot is approximately 12\" long.

- GENUINE: Authentically licensed from the Transformers franchise, Jada Toys brings the leader of the Autobots to your home
- LOADS OF FUN: Comes with working lights and sound, featuring the voice of Optimus Prime from the movie
- SIMPLE TO USE: Product comes in simple and convenient packaging
- READY TO PLAY: Fully functioning and authentic converting Optimus Prime with RC remote control
- Includes Try Me
- Ages 8+

Batteries required (4x AA + 2x AA), demo batteries included.

*FTM = First to market - This item is available exclusively at heo within the EU until October 2022!