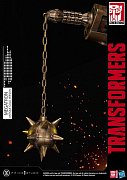 Transformers: G1 Statue Megatron Antique Gold 60 cm
EAN:

27145628

Serial number:

P1SPMTF-02AG
Stock Availability
Temporarily unavailable
$1,695.39
Prime 1 Studio presents the courageous leader of the Autobots in our Premium Masterline Series: PMTF-02AG: Megatron from Transformers: Generations One!

Design by renowned artist Josh Nizzi famous for his interpretation of Transformers movies. Megatron Antique Gold is crafted with impressive attention to detail and features LED light-up eyes, canon and standing around 24 inches tall.

And since you have no doubt already whispered under your breath that this Megatron is an instant Order...then you\'ll be happy to know that you will be able to pair him with Optimus Prime from Transformer: G1 Antique Gold as well!

Product Specifications:

·Statue Size approx. 24 inches tall [H: 60cm W: 42cm D: 36cm]
·Two (2) swappable right hand (Cannon, Mace)
·Two (2) swappable left hand (Sword, Closed Hand)
·Transformers: G1 themed base
·LED-Illuminated Eyes & Cannon


Edizion Size: 100

Please note: For this item, demand is expected to be higher than the available quantity, which may result in allocations or cancellations of quantities ordered.

Please note: Due to the size of this item, additional shipping costs may apply. Apart from your location, the actual package size and weight is needed to determine those costs. Both are unknown at this point and may not be available until the product arrives in our warehouse.