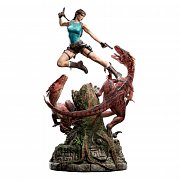 Tomb Raider Statue 1/4 Lara Croft The Lost Valley 80 cm - Severely damaged packaging
EAN:

16484422923477

Serial number:

WETA880103343WMS2DAP
Stock Availability
Temporarily unavailable
$2,226.05
While running through the Lost Valley one must be swifter than a raptor, and mightier than the tyrant lizard king.

During her voyage through the Lost City of Vilcabamba, Lara found herself in a valley teeming with danger; calmness and cunning had never been so critical. With her trusty dual pistols and aerobatic flair, Lara perfected the ability to attack whilst on the go.

Of course, no one leaves the valley completely unscathed. Our latest sculpt of Lady Croft captures all the details of her dangerous adventure, including every last cut and bruise.

Product size: 41 x 44 x 80 cm

Please note: Due to the size of this item, additional shipping costs may apply. Apart from your location, the actual package size and weight is needed to determine those costs. Both are unknown at this point and may not be available until the product arrives in our warehouse.