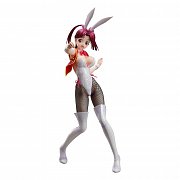 The King of Braves GaoGaiGar Final PVC Statue 1/4 Mikoto Utsugi: Bunny Ver. 46 cm
EAN:

4570001510182

Serial number:

FREE51018
Stock Availability
In stock at the supplier:
>5 pcs
$276.41
Final Fusion Program Drive!!

From the timelessly popular anime series from the \"Brave\" series of anime, \"The King of Braves GaoGaiGar Final\", comes a scale figure of Mikoto Utsugi! Her original bunny suit costume was created by character designer Takahiro Kimura based on the GGG uniform. Her uniform jacket and the buttons featuring the GGG logo on her cuffs have all been preserved and rearranged for a new look. The figure features Mikoto in a dynamic pose fitting of her energetic personality.