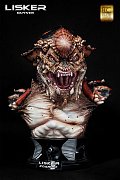 The Guyver Life-Size Bust Lisker 71 cm
EAN:

42266362

Serial number:

ECC18320
Stock Availability
Temporarily unavailable
$1,868.42
Elite Creature Collectibles is proud to present our 1:1 scale Lisker Bust from the film Guyver. The iconic character was designed by Creature FX artist Eddie Yang and based on the Japanese manga series \"Bio Booster Armor Guyver\" created by Yoshiki Takaya. The film was directed by Screaming Mad George and ECC art Director Steve Wang.

During a pivotal battle sequence in the film, the Commander transforms into the all powerful Lisker, possessing strength 15 times more powerful than a normal human being. Does anyone stand a chance against him?

With the original movie sculpture as reference, Hollywood FX sculptor Mike O\'brien intricately recreated every detail on this Lisker bust. It stands an imposing 28 inches tall. Constructed from heavyweight polystone, fiberglass, and high-tech holographic film, each bust is individually hand painted to the finest detail.

Features:

- Size: 71 x 56 x 30 cm
- Cast in high-quality resin with hand painted details
- Handmade glass eyes
- Attractive themed \"The Unit\" display base
- Each Certificate of Authenticity is signed by Art Director Steve Wang and sculptor Mike O\'Brien

Limited to 150 pieces worldwide!

Please note: Due to the size of this item, additional shipping costs may apply. Apart from your location, the actual package size and weight is needed to determine those costs. Both are unknown at this point and may not be available until the product arrives in our warehouse.