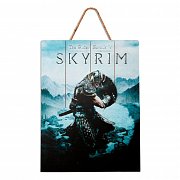 The Elder Scrolls V: Skyrim WoodArts 3D Wooden Wall Art Aereal Attack 30 x 40 cm
EAN:

8437017951483

Serial number:

DOCO-DCSKY02

Manufacturer:

Doctor Collector
Stock Availability
In stock at the supplier:
>5 pcs
$29.30
Doctor Collector\'s WOODARTS 3D is a collection of wooden posters of some of the most iconic movies of popular culture in recent decades. Handmade and printed in full color and with a base made out of cedar wood, WOODARTS 3D stands out for its highlighted motifs on finely cut MDF wood that are either glued or nailed to the poster, resulting in a stunning three-dimensional image with a touch of craftsmanship. The posters come ready to be hung. Each includes a Certificate of Authenticity and an individual number.

Dimensions: 30 x 40 cm

Limited to 2000 units.