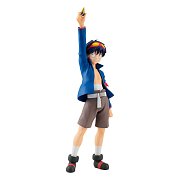 Tengen Toppa Gurren Lagann Pop Up Parade PVC Statue Simon 17 cm
EAN:

4580416943864

Serial number:

GSC94386
Stock Availability
$55.92
\"If you\'re gonna dig, dig to the heavens.\"

POP UP PARADE is a new series of figures that are easy to collect with affordable prices and speedy releases! Each figure typically stands around 17-18cm in height and the series features a vast selection of characters from popular anime and game series, with many more to be added soon!

From \"Tengen Toppa Gurren Lagann\" comes a POP UP PARADE figure of Simon piercing the heavens with the Core Drill in hand. Be sure to add him to your collection with POP UP PARADE Kamina, also available for preorder from the same time!