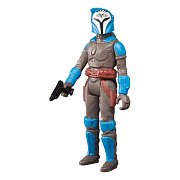 Star Wars The Mandalorian Retro Collection Action Figure 2022 Bo-Katan Kryze 10 cm
EAN:

5010993955916

Serial number:

HASF4460
Stock Availability
In stock at the supplier:
>5 pcs
$11.61
Bo-Katan Kryze has been fighting for the future of Mandalore since the Clone Wars. The last of her line, she leads a team of Clan Kryze Mandalorians striking back at the Imperial remnant.

The 3.75-inch-scale Retro Collection figure is detailed to look like Bo-Katan Kryze from Star Wars: The Mandalorian live-action series on Disney Plus, featuring design and detailing inspired by 1970s Star Wars figures.