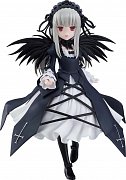 Rozen Maiden Pop Up Parade PVC Statue Suiginto 15 cm
EAN:

4580416943475

Serial number:

GSC94347
Stock Availability
Temporarily unavailable
$58.03
Rozen Maiden Doll #1: Suiginto

POP UP PARADE is a series of figures that are easy to collect with affordable prices and speedy releases! Each figure typically stands around 17-18 cm in height and the series features a vast selection of characters from popular anime and game series, with many more to be added soon!

From \"Rozen Maiden\" comes a POP UP PARADE figure of the first Rozen Maiden doll created by Rozen, Suiginto! The fine details of Suiginto\'s black wings, long hair and gorgeous dress have been captured in figure form.

The PVC statue stands approx. 15 cm tall and comes with base in a window box packaging.