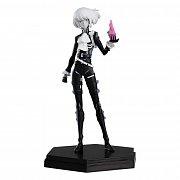 Promare Pop Up Parade PVC Statue Lio Fotia Monochrome Ver. 17 cm
EAN:

4580416943413

Serial number:

GSC94341
Stock Availability
Temporarily unavailable
$40.09
\"We have to burn in order to live.\"

POP UP PARADE is a new series of figures that are easy to collect with affordable prices and speedy releases! Each figure typically stands around 17-18cm in height and the series features a vast selection of characters from popular anime and game series, with many more to be added soon!

From the original anime movie \"PROMARE\" comes a POP UP PARADE figure of Lio Fotia, leader of the Burnish organization Mad Burnish, in a new special color! The figure has been made under complete supervision of character designer Shigeto Koyama, and features a muted monochrome color scheme. Be sure to preorder with POP UP PARADE Galo Thymos: Monochrome Ver., available for preorder at the same time!

It stands approx. 17 cm tall and comes with base in a window box packaging.