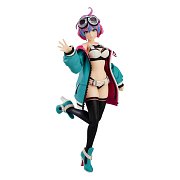 Original Character Plastic Angel Figma Action Figure Ange 13 cm
EAN:

4545784067598

Serial number:

MAFC06759
Stock Availability
Temporarily unavailable
$120.27
The Plastic Angels are now PVC action figures!

From the popular column \"Shunya Yamashita\'s Plastic Angels\" published in the monthly magazine \"Armour Modelling\" comes a figma of Ange!

· She comes with three face plates including a smiling face, a worried face and a smiling face with closed eyes.
· A hobby knife, paintbrush, desk and chair are included as optional parts.
· Her pug Mogu-kun and giant airbrush are included as well.
· An alternate body part to display her without her jacket on is included as well.
· An articulated figma stand is included to display the figma in a variety of poses.

*PLAMAX Military Cuties packages and cutting mat paper craft data will be distributed after the figma is released.