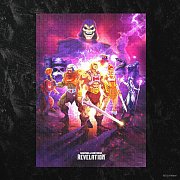 Masters of the Universe: Revelation™ Jigsaw Puzzle The Power Returns (1000 pieces)
EAN:

4056133021203

Serial number:

HEO01007
Stock Availability
$16.88
Take a bit of He-Man, add a lot of Man-At-Arms, Teela and Orko, then throw some Evil-Lyn and Beast Man in the mix and you get what we call an unexpected gathering!

In the latest Masters of the Universe REVELATION series, these natural enemies are forced to work together to return the power of magic to Eternia. All the main characters assemble in this marvelous illustration, while Skeletor, the Lord of Destruction, is looming in the background. What\'s he up to?!

The Jigsaw Puzzle consists of 1000 pieces made of high-quality cardboard, measures 48cm × 68cm when completed and brings the iconic art and characters of the epic Masters of the Universe REVELATION series to your table!

An absolute must-have for fans of puzzles and the legacy of Masters of the Universe alike.