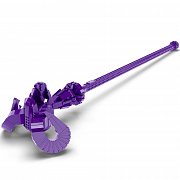 Masters of the Universe Origins Mega Construx Construction Set Havoc Staff 102 cm
EAN:

194735037391

Serial number:

MATTHFC45
Stock Availability
In stock at the supplier:
>5 pcs
$65.41
Channel Skeletor\'s evil magic with the power of his malicious Havoc Staff. Measuring 40.5-inches in length, this collector\'s building set replicates the ancient artifact with authentic styling and mystical detail. Sturdy enough to be wielded by the Evil Lord of Destruction himself, our version of his signature scepter has been designed to honor The Dark Lord. Draw on that dark energy and build your own sorcery. By the power of Grayskull! Probuilders building toys are designed for ages 10 and up.

Pieces: 741

Dimensions (assembled):

- Height: ca. 24 cm
- Length: ca. 102 cm
- Width: ca. 14 cm

Please note: For this item, demand is expected to be higher than the available quantity, which may result in allocations or cancellations of quantities ordered.