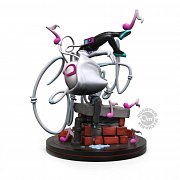 Marvel Q-Fig Elite Figure Ghost-Spider 10 cm
EAN:

812095025093

Serial number:

QMXMVL-0052
Stock Availability
Temporarily unavailable
$34.82
Spider-Gwen, Spider-Gwen...

There\'s a new superhero in New York City, swinging through town and dealing out justice: The mysterious Ghost-Spider is the latest phenomenon in arachnid-powered vigilantism.

Ghost-Spider is secretly none other than the police chief\'s daughter, Gwen Stacy. Gwen vaults across rooftops, keeping a watchful eye out for trouble while jammin\' to her favorite tunes in our amazing Ghost-Spider Q-Fig Elite Diorama. Whether she\'s drumming for The Mary Janes or battling the Kingpin, Gwen\'s love of music is apparent in everything she does and in our incredibly detailed sculpt. You\'ll literally see the music as Gwen spells out \"Ghost\" with her web-shooters, her parkour skills captured perfectly with QMx\'s proprietary Everstone™ polymer. No one can match Gwen\'s grace or sass, the same way no other collectible could ever capture her Olympic-level acrobatics the way this Q-Fig does.

Inspired by the Marvel Spider-Verse comic books, the Ghost-Spider Q-Fig Elite Diorama stands approximately 4 inches tall including the display base and webbing. Collect Ghost-Spider, Miles Morales, Spider-Ham and the rest of our Marvel Spider-Verse Q-Fig Dioramas today!

Why Elite? Our Q-Fig Elite dioramas take everything that makes Q-Figs special - the inventiveness, detail, movement, and storytelling - to bring them to a whole new level. Action is bolder, sculpts are more intricate, costumes, poses, environments and character interactions go beyond anything you\'ve seen before in a collectible figure. Q-Fig Elite is a revolution.