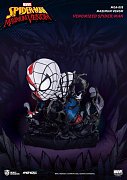 Marvel Maximum Venom Collection Mini Egg Attack Figure Venomized Spider-Man 8 cm
EAN:

4710495557632

Serial number:

BKDMEA-018-55763
Stock Availability
Temporarily unavailable
$18.29
Beast Kingdom, The Entertainment Experience brand takes you on a journey to the dark-side of Marvel\'s Villains, with the release of the (Mini Egg Attack) Maximum Venom figure collection. Showcasing four Heroes from the world of Marvel, the characters are in the middle of transforming into Venom. A special edition base is designed around Venom\'s goo rising into the heroes and taking over their bodies. With a dark cloud looming over our heroes, what kind of hybrid will emerge?

- Will a vicious Spider-Man become everyone\'s evil neighbor?
- Iron-Man is not always the good-guy! What will Venom do to our favorite \'Shell-Head\'?
- Already a \'Doctor Strange\' will Venom make him even stranger?
- Groot is the cutest in the galaxy, so a little more devilish may not be that bad.

The PVC figure stands approx. 8 cm tall and comes with base in a printed box.