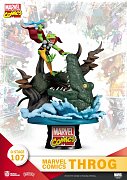 Marvel Comics D-Stage PVC Diorama Throg 17 cm
EAN:

4711203444268

Serial number:

BKDDS-107
Stock Availability
In stock at the supplier:
>5 pcs
$57.04
Marvels long and illustrious history of superheroes often surprises fans with weird and outlashes comic characters! First seen in 1896\'s \'Thor #364\', a special chapter surprised fans when Thor\'s younger brother Loki casts a spell on the mighty God Of Thunder turning him into a cute frog, opening a new wonderous journey for the miniature hero!

Released under the D-Stage, \'Staging Your Dream\' collection from Beast Kingdom, the \'Throg\' Diorama is a fun and humorous recreation of the mini Frog-Thor in the midst of a battle with a large crocodile! Sporting his signature cape, costume and mighty Mjolnir hammer, only in tiny form and worn by a frog, the battle itself looks anything but mini. Epic in scope with waves splashing amongst the dense forest trees and carefully recreated in three dimensional form, this is a diorama fit for any Throg fan!