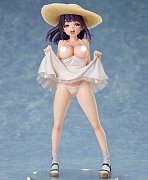 Love Me Tender Statue 1/7 Sawa 23 cm
EAN:

4589890600409

Serial number:

BIND60040
Stock Availability
Temporarily unavailable
$336.55
From Fujimaru\'s first ever bound publication \"Love Me Tender,\" comes this figure of \"Sawa\" based on the cover illustration.

Lifting up her sheer white dress, Sawa sends you an inviting smile.

The combination of her daring pose and straw hat give this masterpiece an erotic yet innocent feel.

In addition, her dress which features a clear material and the straw hat can be fully removed, giving you an even better appreciation of her fleshy body.

Combining the ambiance of summer and a young woman\'s charm, Sawa is a figure you\'ll want to truly savor.