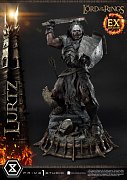 Lord of the Rings Statues 1/4 Lurtz & Lurtz Exclusive 59 cm Assortment (3)
EAN:

38495951

Serial number:

P1SPMLOTR-06EXSET
Stock Availability
Temporarily unavailable
$6,170.70
Prime 1 Studio is proud to present the latest addition to the Premium Masterline Series. 1/4 Scale PMLOTR-06: Lurtz from the epic fantasy adventure film series: The Lord of The Rings!

Uruk-Hais are already some of the strongest and most brutal warriors of Middle-Earth; however, Lurtz is the first leader of the Uruk-hai scouts created specifically for this film. He was the first of Saruman\'s Uruk-hai to be bred, choking the first Orc he sees to death within seconds of his birth. He became Saruman\'s second-in-command and led the first battalion of Uruk-hai into battle against the Fellowship of the Ring at Amon Hen.

Lurtz stands about 24 inches tall, holding his bow, ready to shoot. Representing a memorable scene of Boromir protecting the Fellowship of the Ring, this statue not only grabs your attention but also gives you the story of one of the most brutal warriors in the entire Lord of The Rings franchise! We have crafted this show-stopping statue with the utmost attention to detail and concept design to bring you the most movie-accurate Lurtz statue on the market! Excellent addition to your collection and must-have for Lord of the Rings fans around the world!

This assortment contains:

- 2x Lurtz Regular Version (P1SPMLOTR-06)
- 1x Lurtz Exclusive Version

The Exclusive Version also includes One (1) Switchable pair of arms holding the Sword & Shield.

Please note: Due to the size of this item, additional shipping costs may apply. Apart from your location, the actual package size and weight is needed to determine those costs. Both are unknown at this point and may not be available until the product arrives in our warehouse.