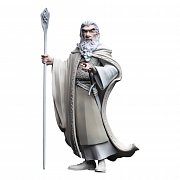 Lord of the Rings Mini Epics Vinyl Figure Gandalf the White 18 cm
EAN:

9420024732984

Serial number:

WETA865003298
Stock Availability
$55.92
At dawn, look to your shelf to see Gandalf the White shining bright.

Ready. Set. Collect.

Digitally sculpted by Mauro Santini, Gandalf is re-born, appearing in a bright light before his Fellowship comrades. Brimming with newly found power and a determination to complete the mission at hand.

Pair him with the Istari, his Fanghorn Forest fellowship, or let his brightness shine solo on your shelf.

Gandalf The White joins our rapidly expanding MINI EPICS family. Collect them all!

It measures approx. 18,5 x 9,3 x 9,5 cm and comes in a printed box.