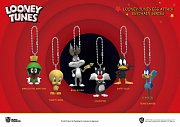 Looney Tunes Mini Egg Attack Keychains 4 cm Assortment (6)
EAN:

4711061157256

Serial number:

BKDKC-006
Stock Availability
$37.98
The looniest of toons are back in miniature form ready to accompany you and your keys on your many adventures. The classic line up from the Warner Bros. archives is recreated in tiny and detail form by the Beast Kingdom\' \'Entertainment Experience Brand\'.

Take home six keychains including Bugs Bunny, Sylvester, Tweety Bird and many more character.
A fitting collection for fans of the classic animated series of fun high-jinks. This Loony Toons collection is one not to be missed!