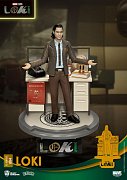 Loki D-Stage PVC Diorama Loki Closed Box Version 16 cm
EAN:

4711203440666

Serial number:

BKDDS-084CB
Stock Availability
$45.37
2021 saw the launch of two highly celebrated tv shows by Disney and Marvel, \'WandaVision\' and \'Loki\'. The culmination of the Infinity War Saga allowed Marvel\'s MCU to branch out into many new and exciting stories for some of its famous characters. With that, the D-Stage, \'Staging Your Dream\'s line of highly detailed dioramas from Beast Kingdom celebrates these two amazing shows with the release of two 360-degree dioramas, each with its own special edition, close box option!

Diorama Stage-084-Loki

Taking advantage of the chaos during the Avengers Endgame Tesseract heist, Loki for a brief period manages to steal the \'Space Stone\' for himself before he is arrested by the Time Keepers!
In order to corporate with the administration and avoid their elimination, Loki is ready to repair the timeline and bring back stability to the universe! Originally launched as one of the main antagonist of the Avengers, and Thor\'s adopted brother, Loki is a character filled with humor and mystery.
Beast Kingdom\'s \'Entertainment Experience Brand\' introduces the Loki character from the TV series in a 360-degree diorama filled with easter-eggs and details from the offices of the \"Time Variance Authority\".