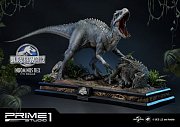 Jurassic World: Fallen Kingdom Statue 1/15 Indominus Rex 105 cm
EAN:

4582535941455

Serial number:

P1SLMCJW2-04
Stock Availability
$2,600.58
Prime 1 Studio is proud to present the 1/15 Scale LMCJW2-04: Indominus Rex from Jurassic World Film.

Indominus Rex is the hybrid that was created by combining the genetic traits of multiple species with the base genome of a T-Rex.

The CG Artist - Steve Jubinville, who oversaw the Indominus Rex 3D model in the movie \"Jurassic World\", is also responsible for this work. Fans can expect the product to be the most screen accurate you will ever find. This 1/15 scale Indominus Rex statue measures approximately 18 inches tall with over 40 inches wide with an injured Ankylosaurus on the base inspired from the film scene. This is a must-have piece for all Jurassic World fans!

Product Specifications:

- Statue Size approx. 46.2 x 104.6 x 33.2 cm
- One (1) specially designed base with an injured Ankylosaurus

Please note: Due to the size of this item, additional shipping costs may apply. Apart from your location, the actual package size and weight is needed to determine those costs. Both are unknown at this point and may not be available until the product arrives in our warehouse.