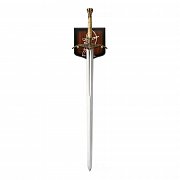 Game of Thrones Replica 1/1 Heartsbane Sword 136 cm
EAN:

040232664571

Serial number:

VAST0124
Stock Availability
In stock at the supplier:
>5 pcs
$615.98
The ancestral sword of house Tarly, Heartsbane was typically carried by Lord Randyll Tarly who first served as a general the Tyrells but then later commanded Lannister armies after the fall of house Tyrell. The sigil of House Tarly is a striding huntsman and the hilt of the sword is elaborately decorated with hunting motifs.

Randyll Tarly was burned alive by Daenerys Targaryen for refusing to kneel and accept her as Queen. However he did not have Heartsbane with him at the time, it having by stolen by his eldest, but less favored, son Samwell who took it to the North after a falling out with his father.

On the eve of the Battle of Winterfell, with the Army of the Dead approaching, Samwell gives the Valyrian Steel blade to Jorah Mormont to use in the fighting, the special properties of the metal allowing him a greater chance at defeating White Walkers. Towards the end of the battle Jorah uses the sword to protect Daenerys, saving her but at the expense of his own life.

This adult collectible is officially licensed from HBO®\'s hit series Game of Thrones®. It is a made of stainless steel, is a limited edition of 3000 pieces and includes a certificate of authenticity and a display plaque.

The Game of Thrones® Collection is a series of collectible weapons and armor painstakingly recreated from the actual props used on HBO®\'s hit fantasy epic Game of Thrones®. The officially licensed collectibles are made from the highest quality materials and have been crafted with special attention to reproduce the authentic details found on the props. Each sword is serialized and will come with a wall mount and a certificate of authenticity.

Overall Length: approx. 136 cm
Blade Length: approx. 102 cm
Blade Material: Stainless steel
Hilt: Hardwood with Antique Bronze Plated Handle Parts
Plaque: Silkscreened Wood with Tarly Sigil

Please note: As this is an oversized item, additional shipping cost may apply. If you contact us with your shipping address, we will gladly determine your shipping costs, based on your location.