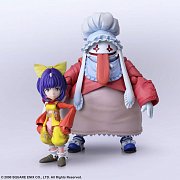 Final Fantasy IX Bring Arts Action Figures Eiko Carol & Quina Quen 9 - 14 cm
EAN:

4988601346252

Serial number:

SQE34625
Stock Availability
Temporarily unavailable
$180.19
From Final Fantasy IX, Eiko Carol, descendent of the Summoner family, and Quina Quen, the gourmet Qu, are now available as a set from Bring Arts.

Their distinctive costumes and silhouette have been realistically recreated, and the colours truly reflect the same qualities as the game.

Accessories include Golem\'s Flute, Fork, and different face and hand parts for various looks. Also included are Eiko\'s best friend Moggle Mog with its ribbon, as well as a frog, which is Quina\'s favourite food.

Enjoy recreating different scenes with these various accessories.

The action figures stand approx. 9 - 14 cm tall and come with accessories and interchangeable parts in a window box packaging.