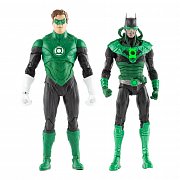 DC Multiverse Action Figure Collector Multipack Batman Earth-32 & Green Lantern 18 cm
EAN:

787926154542

Serial number:

MCF15454
Stock Availability
In stock at the supplier:
>5 pcs
$42.20
Green Lantern: Hal Jordan\'s life was changed twice by crashing aircraft. The first time was when he witnessed the death of his father, pilot Martin Jordan. The second was when, as an adult and trained pilot himself, he was summoned to the crashed wreckage of a spaceship belonging to Abin Sur. Abin explained that he was a member of the Green Lantern Corps, an organization of beings from across the cosmos, armed with power rings fueled by the green energy of all the willpower in the universe. Upon his death, Abin entrusted his ring and duties as the Green Lantern of Earth\'s space sector to Hal Jordan.

DAWNBREAKER: In DC\'s Dark Multiverse, on Earth -32, the green light of will has twisted an angry Bruce Wayne™ into something very dark and sinister. After the murder of his parents in Crime Alley, young Bruce is gifted with a Green Lantern™ ring, which allows him to fly and to generate deadly hard-light energy constructs. With no Alfred Pennyworth™ to guide him, he soon swallows his fear and pain and lets the void that remains corrupt him and the ring, unleashing a wave of darkness across his world, and now ours, as The Dawnbreaker™.