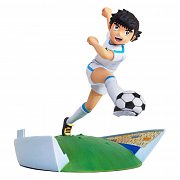 Captain Tsubasa PVC Statue Tsubasa Ozora 18 cm
EAN:

8435450250743

Serial number:

SDTCAM25074
Stock Availability
Temporarily unavailable
$53.81
This is the first figure of the Captain Tsubasa series that will release. The mail character, is of course Tsubasa Ozora himself, and we wanted to wanted to recreate his very first appearence in the serie when he was running with the ball in a crowded stadium while the narrator said:

\"This is Tsubasa\'s story. A boy who dream to become the best soccer player in the world\"

On the occasion of the 40th anniversary of the manga we want to pay tribute by creating figures based on the classic animated series. We want to contribute to this series some figures that can represent mythical moments seen during it with moments both dynamic and of great narrative tension. A luxury collection to pay tribute to a series that lives on thanks to its fans of different ages and generations.