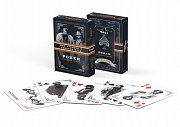 Bud Spencer & Terence Hill Poker Playing Cards Western
EAN:

4056133018210

Serial number:

ODG010002
Bud Spencer & Terence Hill marathon on TV - check! Coffee and beans cooked - check! Poker table set up - check!

Nothing stands in the way of the perfect Bud Spencer & Terence Hill Western themed evening! And thanks to Oakie Doakie Games, fans can now put the icing on the cake and challenge their opponents at the Poker table in style with the officially licensed Bud Spencer & Terence Hill playing cards.

The stylish deck consists of 55 cards (standard 52 hand plus jokers) and is made of high-quality linen material. Designed with great attention to detail by Avid Saeed, no fan household should be missing out on this extra dose of coolness at their gaming table!