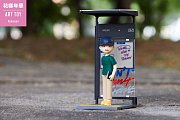 BTS Art Toy PVC Statue RM (Kim Namjoon) 15 cm
EAN:

8809662350803

Serial number:

BW-BTS02
Stock Availability
Temporarily unavailable
$67.06
The symbolic scenes of the characters in the BTS universe, based on BTS music and messages, are expressed as art toys with the design of Sticky Monster Lab.

Especially, these series try to visualize the interconnected relationships among the BU characters, by including objects that are important to their own lives, and the bus stop which is very important to connect all characters together.

It stands approx. 15 cm tall and comes with a 21 cm tall Bus Stop diorama to connect all characters from the BTS Art Toy series.

Made of PVC, Metal.