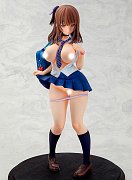 Original Character by Matarou PVC 1/5 Hachise Madoka 29 cm
EAN: 4571467860897
Serial number: FROG86089
Stock Availability
Germany Warehouse:
>5 pcs
$403.60
1/5 scale figure of Madoka Hachise, based on an original illustration by Matarou.

From Matarou\'s original doujinshi publication \"Natsu no Uso.\", we present this figure of Madoka Hachise - a blinding beauty, drenched in the midsummer sun with a disheveled school uniform!

This 1/5 scale figure stands an impressive 29 cm, perfectly capturing that bouncy, fleshy body and slightly childlike face.

Every detail has been faithfully reproduced, including her soft body, school uniform, and goldfish key chain.

Her skirt can be removed, giving you a more intimate view of her succulent hips and disheveled panties.

And you can add the fluid parts if you like, too.

Her boyfriend is nice, but lacking something... Wouldn\'t you like to take a peek into the secrets she holds?